22 Mar 2023
Farm shops and markets see increased demand with supermarket shelves empty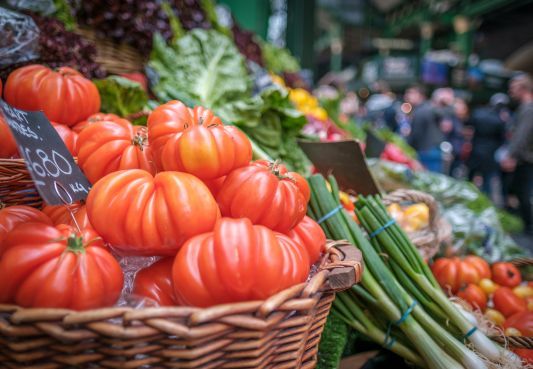 Due to supermarkets rationing some fresh produce after bad weather in North Africa and Southern Europe hit crops, the Farm Retail Association (FRA) has reported a brighter outlook for customers of farm shops and farmers' markets.
Increased sales across the country
Among the farmers' markets benefiting from increased footfall is Lavenham in Suffolk, which has seen a 30% increase in visitor numbers since the start of the year. Fresh vegetables, supplied by Sunshine and Green, a four-acre farm in Cavendish, have seen a real increase in sales.
But the real increase has been seen in farm shops around the country. Emma Mosey, chairman of the Farm Retail Association and co-owner of Yolk Farm, commented, "I'm happy to report that footfall in our shop – Minskip Farm Shop in North Yorkshire – was up in the weeks after the media coverage regarding vegetable shortages in supermarkets, and that like farmers' markets, we were able to provide customers with produce throughout this period. At the recent FRA Conference, this was the case across the board with all the farm shops I spoke to."
Amy Rowe at Hog & Hen Farm Shop & Café in Stonham Aspal, Suffolk, has also seen a difference. "We have definitely noticed an increase in the shop, with new customers doing food shops and regular customers now doing bigger shops. We've been surprised at how many people have been willing to pay a higher price for goods such as tomatoes and red peppers, rather than go without."
Across the country, Mark Francis, manager at Lymefield Garden Centre and farm shop in Broadbottom, Tameside, said they had seen sales double over the past month. He hopes that the big increase in customers there in recent weeks will help encourage people everywhere to 'shop local'.
"We have seen a large increase in the sale of the items that were unavailable on supermarket shelves. For example, sales of tomatoes, cucumbers, lettuces and peppers doubled for this time of year.

"One of the things about the situation that was good for us was, we felt we were really helping people out because our supplies were plentiful. Some people said that they had been to three different supermarkets without being able to buy any salad items," he explained.

Agile supply chains
Farm shops and farmers' markets, with their focus on locally produced produce, have still been able to offer customers a full range of fruit and vegetables, thanks to their short supply chains.
According to Emma, "The current issue really underlines the importance of being able to buy local produce. Our members sell vegetables that they either grow themselves or sourced from nearby growers so when there are issues further afield, they can step into the breach. Not only does this reduce food miles but it also ensures support for the smaller businesses which play a vital role in food production in the UK."

"Farm retailers are also happy to pay producers fair prices, even in times of hardship. They always put both the customer and the producer at the heart of what they do, and because of this, their shelves and customer's baskets are full."

However, it seems that the shortages aren't just a matter of supply issues but also a refusal from supermarkets to pay farmers a fair price.

As Mark explained, "What I would like to say about the situation as a whole is that there was never a supply issue, we use several wholesale fruit and vegetable suppliers at Smithfield Market and they have never run out of any of items the supermarkets claim to be in short supply.

"What has happened over the past month is that the salad items we are talking about have become very expensive, so it seems like supermarkets would rather have empty shelves than shelves stocked with expensive fruit and vegetables."