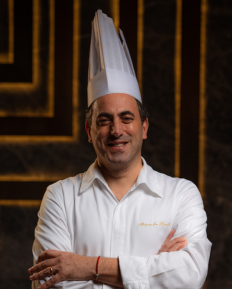 ALESSANDRO MICELI
Executive Chef & Partner
,
Amuni Restaurant & Lounge
With 29 years of experience in some of the world's most renowned kitchens, from Italy to England and the United Arab Emirates, Chef Alessandro Miceli is now at the helm of Dubai's iconic Mediterranean dining destinations: Amuni Restaurant & Lounge and Cueva by Amuni, at the top of Jumeirah Emirates Towers Hotel.
Alessandro is a multi-facetted Chef, who gladly forgets to be arrogant, despite the long list of awards he has earned along the way, from Pro Chef's Best Italian Chef in the UAE in 2019 to TimeOut and What's On in so many categories it becomes hard to keep count. Kindness, empathy and true love of food are what make this gentleman-Chef and entrepreneur a natural leader to his teams and a benevolent host to his guests.