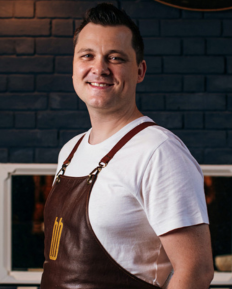 Alexander Stumpf
Executive Chef & Co-owner
,
BB Social Dining
German-born Alexander Stumpf is the Executive Chef & Co-owner of BB Social Dining.
Alex has gained extensive experience from Rainer Becker's award winning Japanese Zuma restaurant Group over a six-year period. Alex has also played a key role in managing pop up projects and new openings for the brand in Turkey and Miami, showcasing his ability and strength to manage kitchen operations at new venues.
At Zuma Dubai, Alex held the Executive Sous Chef position for over five years and prior to this he was based at the flagship branch in London in the role of Chef de Partie/Junior Sous Chef. While there, he was responsible for overseeing the preparation, cooking and presentations of every dish as well as driving implementations for front of house operations.
Known for his exquisite technique with modern cooking methods as well as artistic skills, With a broad understanding of blending tastes and textures between different cultures and ethnicities, Alex's Tenure with the Bulldozer Group's concepts had Alex's stamp on the city's culinary scene, with creative flair and a passion for food that speaks to people from all walks of life.
Most Recently, Alexander was involved in updating the Global Menu and concept for Peyote & Peyotito Restaurants. He launched Peyote Dubai and Peyotito Ibiza whilst overseeing all 4 outlets across the globe.
Alexander now mans the helm as co-owner & operator at BB Social Dining in DIFC. A compact venue spread across 3 floors with no back of house space, this latest challenge is already making wave across the industry.
Alex is an extraordinary culinary talent who has invested many years working in his industry to excel. After his extensive experience with multiple food & kitchen disciplines, this insight is needed to run a kitchen successfully as well as deliver a great culinary experience to the venues's guests.