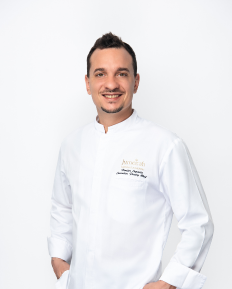 DIMITRI ESPOSITO
Head of Pastry
,
Jumeirah Al Qasr
Dimitri Esposito, born and raised in the heart of the well-known Provence, Marseille, France joined Jumeirah Group as Head Pastry Chef at the palatial Jumeirah Al Qasr. Chef Dimitri brings over 18 years of experience in the art of pastry and chocolate making to his role having been trained by globally renowned chefs.
Chef Dimitri earned his degree in Advanced Technical Culinary Skills from Les Compagnons Du Devoir in France, where he gained valuable skills in pastry and chocolate making and gastronomy. Dimitri began his professional career in 2004 at Mahieux in Brussels as Chef de Partie in the pastry department followed by the role of Chef de Partie in the Macaron department with SEVE by Richard Seve. Next he made the move to Delice des Sens in Lyon with the award-winning Romaric Boiley.
Dimitri then became the Sous Pastry Chef at Arts & Creations in Lyon and was mentored by Frederic Allard, the Vice World Champion of Ice Carving. Two years later, he moved to London and joined the Michelin-starred Lecture Room at sketch, headed by Pierre Gagnaire. In 2010, he became the Head Pastry Chef at L'oranger which then led him to take on a new role at Clos Maggiore, one of London's most romantic fine-dining restaurants.
In 2015, Chef Dimitri moved to St Petersburg to become the Executive Pastry Chef – Consultant at a French-inspired pastry shop in one of the most prestigious food halls in the city. Prior to joining Jumeirah Group, Dimitri was the Executive Pastry Chef at award-winning Duck & Waffle in London. In his role at Jumeirah, Chef Dimitri brings a sense of versatility, creativity and attention to detail to ensure his passion for pastry is showcased through presentation and taste.
Under his leadership, Al Fayrooz Lounge was shortlisted for its afternoon tea experience in the Time Out Restaurant Awards 2023.