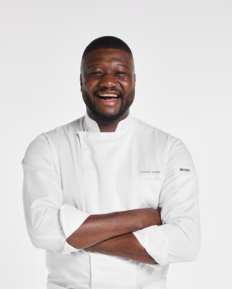 JUNIOR NADJE
Exécutive Chef de Cuisine
A French citizen living in Dubai in the last 8 years. He graduated in Paris at a Hospitality school, and started his experience with prestigious restaurants, from Paris to Monaco, London to Dubai. He started his career as an apprentice in Mama Shelter Paris (Accor hotel) The Hotel was design by Philip Starck Few years later he decided to move to South of France to get more experience and started to work in Monaco. He continued in London for Laduree restaurant, 2 years spent in London, he went back to the South of France for Le Blue Bay 2 star Michelin , in Monte Carlo Bay From this experience, he learned another type of cuisine, based on Caribbean spices. He also participated to a prestigious one event held for the 20th anniversary of Le Louis XV Alain after Two years spent at Le Blue Bay, He decided to get another challenge and work at La Chevre d'or, 2 star renowned , located in Eze Village for two years.
After this experience, he moved to Dubai as chef Adjoint de cuisine at STAY 2 star Michelin restaurant, One & Only the Palm Dubai, of chef Yannick Alleno. For three years, he developed his management, operations, and communication skills. he welcomed a lot of personalities and among them, he was happy to be the private chef of Mrs. Lilian Betencourt (former owner of L'Oreal). In April 2019 , 3 years later he opened Rue Royale by the chef Mathieu Viannay from la mere brazier in Lyon (Mof 2004 and 2star Michelin) In September 2019 he participated to Lyon street food festival along Michelin star chefs: Mauro Colagreco, Joseph Viola he works also for the la mere brazier in Lyon 2 Michelin star .
He also gave a cooking class during a tv show calling the "marseillais in dubai" with his signature dish the red cabbage roasted with citrus fruits, in March 2022 he is going to Abidjan with the multiple starred chef Yannick Alleno to organize a gala dinner in favor of the children of Africa in the ivory coast his country of origin, July 22 he was nominated ambassador of gastronomy in Greece by the prestigious organization AMBASSADORS OF TASTE FOR THE GLOBAL GASTRONOMY.