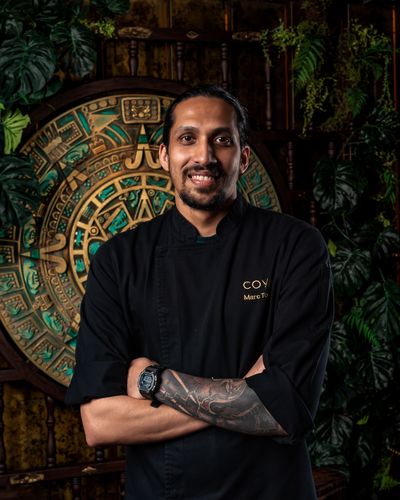 MARQUES TONE
COYA Dubai's Head Chef is a creative, talented and ambitious culinary professional who brings over 15 years of experience working in iconic and award-winning global restaurants and hotels.
Born in India, his successful career has seen him traverse the globe and take up leading kitchen roles in dynamic food and beverage destinations such as London, Mumbai and Dubai.
Holding a bachelor's degree in Hotel & Tourism Management Studies and a Culinary Arts postgraduate diploma from the prestigious West London College, he started his career in the UK capital at celebrity chef Gordon Ramsaey's restaurant.
Moving to the UAE in 2010, he went on to secure senior positions at several of Dubai's most glamorous fine-dining restaurants. Immensely skilled at all kinds of world cuisines, including French, Japanese and Peruvian, the versatile chef has always been able to adapt and learn quickly and he boasts a unique understanding of the UAE's ever-changing and deeply competitive dining scene.
In 2014, he joined the COYA Dubai team as Junior Sous Chef.
Quickly impressing with his diligent, positive and hard-working attitude and natural aptitude for Peruvian cuisine, he became an indispensable part of the COYA Dubai family. Constantly working to develop his techniques and grow as a chef, he stayed with the global brand until 2019.
After gaining more priceless experiences at several of Dubai's other leading restaurants, he was delighted to return to COYA Dubai in March January 2023, (When did he join please?), and take up the helm as Head Chef of the iconic Peruvian restaurant.
Responsible for guiding, motivating and mentoring COYA Dubai's award-winning kitchen team, Marcques prioritises creating a nurturing working environment. He invests great time and effort into training every one of his team members and developing their skills and capabilities.
A supportive and caring leader who will go above and beyond for his team, Marques was instrumental in helping COYA Dubai secure its much-coveted place in the Gault&Millau UAE Guide for the second year in a row.
He has big ambitions for the brand, and he has set his sights on gaining many more awards and accolades, including moving COYA Dubai even higher up the MENA's 50 Best Restaurants list.
A measured and inspiring leader, he consults with his team before making decisions and he always takes everyone's opinion on board. Marques is invested in creating more amazing and unique experiences for guests, whether it is special dishes for Ramadan, Valentine's Day and other special occasions, or constantly revamping and enhancing COYA's signature à la carte menu.
Passionate about using fresh, seasonal ingredients, experimenting in the kitchen and showcasing the vibrant spirit of authentic Peruvian cuisine, Marques Marc is driven by a desire to make COYA Dubai one of the best restaurants in the world.