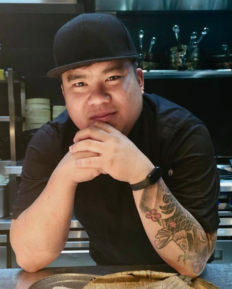 PAUL FELICISIMO
Chef Paul Felicisimo's culinary journey began as a result of observing his mother at work, a former private chef in Singapore. Drawing inspiration from her, he embarked upon a culinary adventure in the vibrant gastronomic landscape of Dubai. With a fervent dedication to his craft, he focused on mastering a diverse array of cuisines, particularly Japanese, Korean, Southeast Asian and Mediterranean cuisines. With his humble beginnings as a Commis Chef, he devoted years of relentless effort and unwavering determination toward his growth. This journey led him to ascend the culinary ladder, ultimately achieving the esteemed position of Head Chef.
Currently he is the Executive Chef at a brand-new restaurant called Gimi, under the Atelier House Hospitality banner, where he is breathing new life into beloved Korean and Southeast Asian delicacies. GIMI's offerings showcase a seamless integration of ingredients, techniques, and cultural influences.
Chef Paul's evolution from a driven novice to a seasoned culinary leader reflects not only his unwavering commitment but also the profound influence of his mother's legacy and his personal quest for culinary excellence. With Gimi, he is thrilled to bring patrons a menu that tells a compelling story, where each dish is a chapter in the narrative of Gimi's culinary identity.