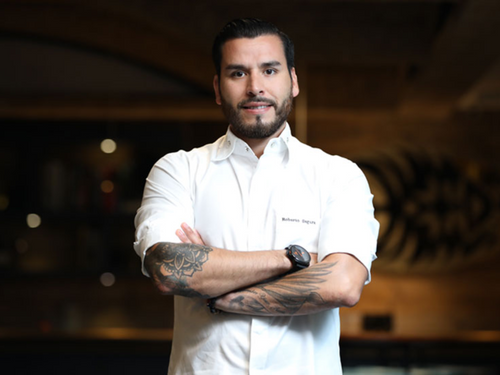 ROBERTO SEGURA
Head of Culinary
,
Infini Concepts - La Barra
Roberto Segura is a visionary chef whose passion for cooking ignited in his native Peru. In 2005, he embarked on his culinary path, enrolling in the esteemed Culinary School of Los Andes Lima and quickly gaining experience in renowned restaurants throughout Peru. Notably, he honed his craft at La Rosa Nautica and Bravo Restobar, both ranked among Lima's top 10 restaurants, working alongside esteemed chefs like Christian Bravo.
Seeking to push culinary boundaries, Roberto journeyed to Argentina in 2008 to specialize in vanguardist cuisine and molecular techniques at the distinguished Instituto Argentino de Gastronomia (IAG). It was during this time that he had the privilege of working at Osaka, the pinnacle of Buenos Aires' dining scene, renowned for its exquisite Nikkei cuisine.
Continuing his quest for culinary excellence, Roberto embarked on stages in Chile and Peru in 2010, including a transformative experience with renowned chef Rafael Osterling at one of Latin America's top 50 restaurants. That same year, he played a crucial role in the opening of Osaka's new branch in Mexico.
In 2011, Roberto's culinary journey intersected with the acclaimed chef Richard Sandoval, propelling him to culinary hotspots such as New York and Dubai. At prestigious establishments like Maya, Pampano, and Toro Toro at Grosvenor House Hotel, Roberto showcased his skills and left a permanent mark.

In 2014, Roberto assumed the role of Executive Chef at The Act Dubai in the Shangri-La Hotel, where he introduced the Middle East to the region's first-ever Peruvian menu. Seeking further inspiration, he embarked on stages at Terroir, a renowned French bistro in London, and Central Restaurant in Lima, ranked as the world's second-best restaurant under the helm of famous Chef Virgilio Martinez. Driven by a passion for innovation and excellence, Roberto established 3 Hospitality in 2016. His creative genius flourished as he created and managed exceptional concepts, including the award-winning Waka Restaurant, the Best Latin American Restaurant in Dubai.
In 2020, Roberto embarked on a new chapter, founding RS Hospitality Consultants, a venture that allowed him to create, open, and manage over 17 groundbreaking concepts across Dubai, Cairo, Riyadh, Kuwait, and Almeria.
By 2021, Roberto united his culinary expertise with Infini Concepts, assuming the role of Director of Culinary. Collaborating with the company, he played an instrumental role in developing innovative concepts, including TABŪ, Tipsy Lion, Miss Tess, and Hayal.

Roberto is the owner and chef of Recently launched La Barra Peruvian Tapas, this vibrant concept is looking to expand across the Middle East with different branches and franchises opportunities.

Beyond the kitchen, Roberto's vibrant personality shines through his social media accounts @robertosegura , where he shares his culinary journey, lifestyle, and cooking inspirations. Continually driven by curiosity, he remains dedicated to researching and developing unique food and beverage concepts, enriching the Middle East market with his creative flair and expertise.